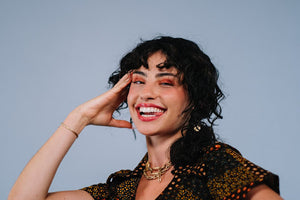 Top 10 Beauty Trends for Spring 2022
Spring is almost here! That means it's almost time to retire your dark and moody winter looks until next year and start considering which springtime trends you can get behind. 
A change in the season is the perfect time to revisit your go-to makeup, retire ones you aren't feeling anymore, and find a new look that's fresh and inviting!
Here are a few springtime makeup trends that are currently on our radar: 
The Brighter The Better
Neon is usually a summertime style, but this year we see it making a comeback this spring. We're talking bright, neon eyeshadows and nail polish to match. 
Experiment with neon yellow cat-eye looks or neon green eyeliner on the top of your lid. Go big and bold with an all-over eyeshadow look or glitter. Also, get ready for fun and funky clothing trends to match the look! 
A Bronze Eyeshadow Moment 
The soft, bronzer makeup look isn't leaving us just yet! Instead, we're seeing these same shades and tones for eyeshadows in spring 2022. Swipe our Bronze Duo Highlighter & Eye Brightener over your lids for a perfect bronze moment!
Buy Bronze Duo Highlighter & Eye Brightener on Amazon!
The somewhat natural look provides an impeccable glow that is sure to complement every eye color and give you a shimmery finished makeup look. 
Don't be afraid to pair it with a bronzer to match and get that summer glow a little early this year. 
The 90s are Back
A 90s trend we can get behind is a nude or brown lip gloss or lipstick. This look is daring and bold, yet subtle and inviting. We love how easy it is to style and complement darker skin tones. 
Don't be afraid to play with lip liners and darker brown shades! If you're ready to test out the latest trend and see if it's right for you, try our Exposed Lip Gloss. 
Buy Exposed Lip Gloss on Amazon!
A Red Blush Moment 
Everyone is ready to say goodbye to the cold weather this year, and say hello to sunshine! 
To go with this mood, we're seeing bright and bold blush tones like our Passionate Lip & Cheek Stick that are sure to give you an extra pop of color. It's an easy way to add a bit of fun to your go-to makeup routine and looks good with a minimal or glam look. 
Buy Passionate Lip & Cheek Stick on Amazon!
A Glossy Lip
Will the glossy lip ever go back out of style? We sure hope not! A lip gloss you love has the power to elevate your entire look.
It's simple and underestimated, showing us what a little bit of shine can do to almost any makeup look you want to achieve. Don't be afraid to go real glossy this springtime and show off your natural beauty. 
Glitter Galore 
Body glitter is a fun way to add a bit of glitz and glam for any occasion!
Whether it's in your sunscreen, hair spray, or bronzer: don't be afraid to let the glitter shine through to summertime and give your skin that extra needed glow. 
Pretty in Pastels
Who doesn't love a pretty pastel shade in the springtime? We're seeing those fun eyeshadow looks and love how they elevate any makeup look and give it a playful feel.
Cute In Corals
A red lip never goes out of style. However, the shade does tend to change with the seasons. 
For spring 2022, we're loving the orangey-red and coral-colored lip look. If you're looking for the perfect shade, our Daring Cream Lipstick might be exactly what you need to make a statement in the springtime. 
Buy Daring Cream Lipstick on Amazon!
Chunky Jewel Stones 
On and off the runway, the glitzy look is being taken to new heights with bold rhinestone and gemstone looks. 
No matter how you plan to pull the look off, you're going to want to use Mascara and Brow Gel to keep your eyebrows and eyelashes looking sleek and defined. 
Buy Mascara and Brow Gel on Amazon!
Keep it Clean
We tend to see lighter and brighter looks during springtime. The weather is better and it pays to go lighter with the foundation to keep your makeup looking fresh! 
To get the elevated natural look, you'll want to go for lighter and lighter shades. Start with a BB Cream and a playful pink shade like our Forever Young Lip Gloss!
Don't be afraid to have some fun this spring. We can't wait to see what beauty trends you make your own during spring this year!