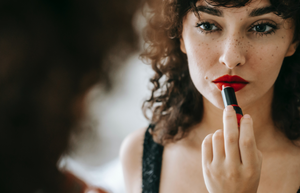 Top 10 Lipstick Trends to Try in 2023
New year, new you, and even newer lipstick trends! The best part of starting a new year is the brilliant makeup trends, fashion styles, and captivating looks that take center stage. If you love wearing lipstick and flaunting your favorite colors, you're probably always on the hunt for new colors and lipstick trends you can get behind. 
Let's say goodbye to 2022 the Lique Cosmetics way. 
Here are 10 lipstick colors we have on our radar for 2023:
Bright and Bold
It's time to trade in your favorite pink lip for a coral or peach. Coral and peach are vibrant shades of red that have elegant pigments. Try our Lover Cream Lipstick. This is a great color for individuals with warm undertones looking for a fun, flirty way to upgrade their lipstick game. 
Feeling Blue
Hear us out… blue lipstick can be fun! In 2022 we saw blue lip shades make a comeback, and we're sure to see this trend continue well into 2023. Blue is rebellious, daring, and tons of fun to style. The best part? It doesn't matter what color your skin tone is! There is a shade of blue out there for you. 
Pretty in Pastels 
Spring 2023 will be here in no time, and we're sure to see bubblegum pinks, pastel purples, and muted peaches throughout the season. For a more complete makeup look: Consider matching your lipstick with your eye shadow. 
Make a statement in the new year with a pretty pastel purple. Our Enchanted Cream Lipstick features a luscious nude purple color that's perfect for anyone looking to make a statement or show off your wild side. 
A Daily Neutral
If your goal is to look good and feel good everywhere you go, you'll want a go-to neutral that compliments your undertones. A nude lip is a great go-to that never goes out of style. You can wear it with all your daily outfits for an easy elevated look. Consider the Chatter Box Matte Liquid Lipstick if you're looking for the perfect nude shade!
Daring Purple 
Are you daring enough to try vibrant, pastel, or dark purples? If you haven't in the past - now is your chance! Purple is a fun, flirty, and playful color, great for colder weather, girls' night out, and special occasions. Our Rock Steady Matte Liquid Lipstick is the prettiest purple shade, guaranteed to look great on any skin tone!
Bolder, Darker, Better 
Bold lipsticks are flirty and romantic. When you opt for a darker lipstick color, you don't have to go as heavy on eye shadow or other products for your complexion. You can let the dark and bold lipstick be the star of the show! Consider a deep red, burgundy, or even dark purple. 
Our Dreamy Cream Lipstick is a gorgeous, deep red color waiting for your lush lips. This lightweight cream formula keeps lips moisturized and delivers a rich pigment with just a few swipes. 
If you're looking to go even darker, consider the Forbidden Matte Liquid Lipstick. This matte dark purple color is perfect for those nights when you just want to stand out!
Bright Violets 
The brighter, the better. Retire your favorite matte pinks of 2022 and say hello to bright, bold, and playful violets. We're sure to see stunning, vibrant colors in 2023, like our Venom Lip Plumper. This violet lip plumper will be your new favorite lip gloss, with its long-lasting plumping effects, plus argon and jojoba oils for moisturizing lips.
Rich Berry
Obsessed with the purple hue but want a more mellow take? Consider a rich berry lip. This is a great color for cool undertones and is easy to dress up or down - whatever you please. Depending on how you plan to dress it up, a rich berry color can look great - no matter the season. Try our Magic Cream Lipstick for that classic berry shade.
A 90s Brown 
The 90s lip made a striking comeback in 2022. It's proven to be a resilient lipstick trend that we're sure will be a popular choice well into 2023. Our Teddy Bare Cream Lipstick is the perfect brown for this look. If you want to achieve the 90s lip, you'll want to slightly overline your lips right above your natural lips and pair it with a dark brown that compliments your skin tone. 
A Ruby Red Statement 
Red is a color that arguably never goes out of style. This timeless hue pairs beautifully with different skin tones, styles, and personalities. Whether you're getting ready for a date night or have a special occasion - you can always count on a trusted red lip to get you through. 
Obsessed with red? Us too! With our Scandal Cream Lipstick, you can achieve a vibrant red lip fit for every occasion. Our formula delivers a smooth, even color, always comfortable to wear - so you can look your best and be the center of attention in any room you walk into. 
Stay Ahead of the Trends With Lique Cosmetics 
At Lique Cosmetics, we have a wide range of gorgeous lip shades so you can stay ahead of the trends and show off your favorite lip colors all year long! All our formulas contain an expert blend of good-for-your-lips ingredients, so you can feel confident and ready to take on the day.
Ready to try a new shade? Start shopping today!