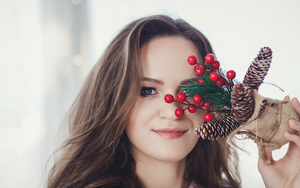 Top 5 winter makeup trends of 2021
What does Winter 2021 have to offer? Some adorable make-up looks for starters! 
From a glittery wonderland on your face to bringing back decades-old subtle looks, these winter trends will have you running to your mirror to try them out and get in the wintery spirit. 
Icy blues, silver rhinestones, and white lipstick all find their home in the winter, but we are mixing things up this winter and opting for some different looks that will have you swooning at how cute they are!
1. Metallic
Going metallic for winter is a classic look that will never go out of style. Icy blue eyeshadow, silver lipstick, sparkling additions such as little rhinestones, and glitter all fit into this trend and will be sure to grab people's attention.
Aiming for the metallic aesthetic doesn't necessarily mean going for those lighter colors. Some metallic makeup options come in colors you may not expect. 
For example, this metallic cream lipstick adds a sparkle to your lips while keeping it a bit dark and mysterious.
Bringing the shine and sparkle to your winter makeup looks will create this enchanting wintery aesthetic, making you look like a sugar plum fairy. Especially with a soft purple shade like this metallic liquid lipstick that screams warm but wintery vibes. 
2. Wine-stained lips
Who doesn't love wine? The wine-stained lip trend is hot in the makeup world right now and super easy to achieve. 
Any burgundy, plum, or deep red shade of lipstick will work to get this look. Try to choose deep, warm colors that, well, look like wine. 
A luscious, romantic red lipstick will bring out your wild side and make winter hotter than ever. The wine-stained look is perfect for seasonal events like holiday parties or if you are just feeling extra festive one day! 
The trend is easy to achieve but is bold and striking, making it one of the best trends for this winter. 
3. Heavy liner
Lip and eyeliner are very in at the moment. Going heavy on both of these highlights your features and adds edginess and darkness to your look. 
Whether it is a sleek, black eyeliner, or a deep red lip definer, this trend is super fun and sexy. 
Using a heavy liner in your look gives you a lot of freedom when it comes to your color palette. 
A heavy eyeliner and lip liner draw the focus to those features and if used properly, you don't need to add too much else to the look. A touch of blush or a swipe of eyeshadow will complete the look super easily. 
4. Matte finish 
The classic matte finish look is making a comeback. It was big in the '90s and is growing in popularity once again. 
This means subtle blush, plain eye shadow, matte skin, and most importantly a matte lipstick.
The matte finish is a subtle but powerful look that makes you feel beautiful in its simplicity. While glitter and glam are fun, it isn't always necessary to achieve that chic look we all want. Going for a matte look highlights your natural beauty with an added flair of color and style. 
5. Glossy finish
The winter trend of a glossy finish makes perfect sense for the winter months. Everything seems so shiny in the winter: the ice, the snow, the twinkling lights. And now your eyes and lips are shimmering this season too! 
A super shiny lip gloss, or striking eye shadow is the best way to achieve this look and shimmer all over town. 
To make the most out of your shiny lips, you can add lip plumper into your lineup for that extra oomph in your gloss. 
The best part about this trend is your glossy makeup can come in any color you want, from red to pink to blue to purple, as long as it is shimmery you are on-trend for the winter months.
Conclusion
So whether you want to throw it back to the '90s, match the shimmery snow, or warm up like a glass of mulled wine, there is a makeup trend for you. 
Sometimes, the cold weather makes it difficult to express your style since you are wearing a heavy coat that covers your cute outfit. 
Luckily, makeup is always there for us to let out our creative side and hop on the coolest current trends. 
Turn yourself into a snow queen or a sugar plum fairy this winter and enjoy all the sparkle and shimmer that comes with it!