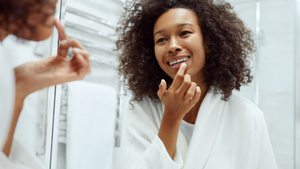 Ultimate Nighttime Lip Care Routine
If you want soft, supple, and plump lips, you'll need to start prioritizing the right products. 
Perfect lips come from consistency, nutrient-rich ingredients, and moisturizing lip essentials. 
We'll let you in on the secrets to help you perfect your nighttime lip care routine.
Here's what you'll need to get started:
Step 1: Lip Scrub
Scrubs are a must-have exfoliant for your lips. They scrub, buff, and remove all of that unwanted flaky skin, providing a fresh canvas for your go-to lip gloss or lipsticks. 
The gritty material helps eliminate dead skin cells and helps improve the cell turnover rate on delicate skin. 
Before you hit the hay, apply a trusted scrub to your lips and rub your lips together. The scrub will work to remove all the flaking skin that builds up throughout the day. 
Our Strawberry Lip Scrub is formulated with natural sugars, avocado oil, and vitamin E. The natural sugars gently buff away dry skin, leaving your lips ready for flawless color application when you wake up in the morning! 
We recommend using it regularly to keep the delicate skin on your lips nourished and soft. 
Shop our Strawberry Lip Scrub on Amazon!
Step 2: Lip Plumper
After you use your scrub, you'll want to dive right in with a hydrating product. This will help prevent your lips from drying out and keep them soft and supple. That's why we recommend going in with a lip plumper next.
The right lip plumper will do more than just plump your lips. It will also contain hydrating ingredients that your lips need to thrive and feel their best. They leave your lips looking fuller and more voluptuous, giving you an extra boost of confidence right when you wake up in the morning. 
If you've never tried a lip plumper, try our Clear Lip Plumper. Applying this formula at night will keep your lips smooth, soft, and ready for that AM routine. The formula contains jojoba oil and vitamin E, providing the perfect burst of nutrients after you finish with your scrub. 
Shop our Clear Lip Plumper on Amazon!
Step 3: Lip Mask 
If your lips need a little extra TLC, you can benefit from a lip mask. Lip masks are ultra hydrating and formulated to prevent your lips from drying out. The right lip mask can help reduce signs of aging and deliver long-lasting moisture that carries into the early morning. 
We can't recommend our Honey Lip Mask enough! The formula is designed to take your lip hydration to a new level! With this leave-on hydrating mask, you can say goodbye to dryness and hello to hydration!
For the best results, we recommend using a lip mask in your day and night routine. After 30 days, you'll start to notice visually softer lips.
Shop our Honey Lip Mask on Amazon!
Step 4: Lip Butter
This last step is optional. It depends on your unique lip care goals and how much extra help your lips need! 
You may decide to add this extra layer during the winter months when the weather is colder and your lips are more prone to drying out. 
Or, If you feel like your lips are not looking their best lately: don't be afraid to add an extra layer of moisture with this step. It can never hurt!
Meet your new best friend: Our Lip Butter. This hydrating lip butter is formulated with nutrient-rich ingredients. It's a must-have lip necessity you can carry with you on the go and always use before bed. When you wake up, you'll be excited to see visually softer lips after just a few uses! 
Shop our Lip Butter on Amazon!
Get soft, kissable lips with Lique Cosmetics 
In the morning, when you wake up, continue with your routine. You may decide to use your lip balm, plumper, and lip mask before applying your favorite color to your lips! Be consistent with your nighttime routine, and your best lip days will arrive in no time!
So what do you say? Are you ready to take your nighttime lip care routine to the next level? We're here to help. At Lique Cosmetics, we're all about lip care and prioritizing the right products, so you can get the pillowy soft lips you've been craving! 
Shop our selection of lip care essentials today to get started.
Want a visual breakdown of our ultimate nighttime lip care routine?
Check out our YouTube video!