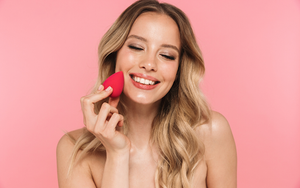 Upcoming Beauty Trends for 2022
We don't need to mention how crazy the last few years have been, but it's safe to say that 2022 will be another exciting calendar to mark your big red X's on. 
We're seeing everything from super bold looks, to natural beauty, to 90s throwbacks. 
Seriously, there's something for everyone this year. 
As the world seems to be getting back into its regular rhythm with travel resuming, people going back to in-person work, and generally getting out and about again, you can expect beauty trends to be out of this world. 
Want to start the new year on the right foot when it comes to upcoming beauty trends this year? Don't worry. We've got you covered! 
This year, look for: 
Sparkles galore 

Serving 90s looks 

Statement eyes 

Maximalist color 

Go supernatural 
Continue reading to learn more about the anticipated beauty trends for 2022. 
Sparkles galore
Cue the sparkles emoji! ✨
Bedazzling your hair and makeup is IN this year. You can expect to see a lot of 1990s to 2000s trends in 2022, as these things tend to resurface every 30 years or so. 
This time, the sparkles aren't just for the kids! Be prepared to see sparkly makeup, phones, bags, and even jeans!
Serving 90s looks 
The 90s called and their looks are here to stay. Throwback trends like lip liner/defined lips will be big this year. 
Extra glossy and sparkly lips will also be big in 2022. If you're lucky, the gloss will even be a fun flavor. Just make sure to treat those babies right by also giving them some TLC after dressing them up. A lip scrub works perfectly for that. 
Other 90s looks are on the rise too. Think bell-bottoms and wide-legged jeans, acid wash, and tie-dye. Let's just hope frosted tips don't make a comeback. 
Statement eyes 
Paint on some statement eyes to go with those glossy lips. We're seeing double wings, big brows, extra sparkles, and even neon shadows. Seriously, whatever you can think of, do it! 
We're loving those stick-on jewels in the corners of the eyes, but do whatever works best for your makeup style!
Pro tip: get a rainbow palette and explore colors that you normally wouldn't try to see what looks best with your skin tone and face shape! 
Maximalist color
Another trend we're fully on board with is maximalist color. This includes all our favorites from above: glitter, neon, metallics, and all. 
And best of all, many people are executing these looks on a mostly casual basis. No need to wait for a fancy event to bust out the glitter. Simply make it a part of your everyday look through your lips, eyes, or even brows! 
Go supernatural 
On the complete flipside to all of the above trends,  you can also expect a lot of "natural" looks. This means you can bring your pandemic makeup routine right off the couch and into the new year with you. 
During covid, many people have been enjoying working from home and not wearing their makeup out and about or to work. 
This trend has transferred over to the fashion and beauty world as ultra-natural looks like baby highlights, loose/relaxed hairstyles, and natural makeup are on trend this year. 
Conclusion
And there you have it! Our top five beauty trends of 2022. 
To recap, you can expect to see tons of sparkles on the eyes, lips, and face; many looks that are fresh out of the 90s and early 2000s; big, bold, statement eyes; maximalist color; and natural makeup and hair. 
What beauty trends are you looking forward to this year? Have you tried any that are already on the list?