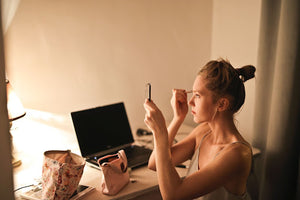 Upcoming Beauty Trends for Fall 2022
With every new season comes fresh new makeup trends. The beauty of makeup is the versatility of the styles and looks. Whether you're looking for a bare and minimal look with a dewy finish or you feel like trying out something more playful and flirty: Makeup can help you achieve anything you can imagine.
The best time to try out new trends and styles is with the changing seasons. That's why all our eyes are set on fall 2022 makeup trends. 
Summer set the stage for bold eyeliner looks, voluminous lashes, and an extra touch of blush - but what does fall have in store? You're about to find out. 
Here are the upcoming beauty trends we have on our radar.
Mastering the basics 
That quick and easy no-makeup makeup look is still trending. How could it not? It's simple and easy! Once you've mastered the look: you'll always be able to allow your natural beauty to take center stage.
With the right makeup basics by your side, you can achieve that 5-minute makeup look and add an elevated touch. Whether you add a pop of blush, faux freckles, or a darker mascara: It's up to you! 
If you're ready to jump on the bandwagon and test out elevated basics, all you'll need is the following: BB Cream, Duo Mascara and Brow Gel, and Blush.
With these three essentials, you can get the look everyone is craving this season. If you're looking for minimal coverage to ensure your natural beauty shines through: try any shade of our BB Cream! 
Our formula is designed to revitalize and brighten your skin. The weightless feel works wonders at smoothing fine lines and reducing unwanted redness. Since it has relatively light-covered, you can rest assured your natural features will still have their shining moment. 
Bold and daring eyeliner is back
There's a reason that Teenage Dirtbag is trending on TikTok. Slowly but surely, grunge is making a comeback. The bold eyeliner and captivating designs provide a daring twist to what we've been used to seeing these past few years. 
We're sure to see more 90s grunge eyeliner styles with careful pops of color. You may also notice daring designs with bright and flattering accent colors. 
Sunkissed in the fall 
You read that right! We're seeing summertime fine make an appearance in the fall. Using blush to get that sunburnt look is a quick and easy way to elevate your minimal makeup looks. 
The best part? It's easy to achieve. All you need is a go-to blush in a color that compliments your skin tone. 
Our Lip & Cheek Stick is a buttery vegan formula infused with nourishing ingredients. It's designed to provide a healthy dose of hydration and give you that stunning, sunkissed look. 
Simply apply it to your cheekbones with the no-touch applicator. You can add as little or as much as you want. 
Pro tip: Add a bit of blush to your nose for the best, sunkissed look. 
Shop our Lip & Cheek Stick on Amazon!
Achieving the dewy finish
Say goodbye to the cakey foundation and matte finishes. Fall is all about that dewy, hydrated look. To get this look, switch out your eye shadows, blush, and foundation for a creamy formula. 
Don't forget to brush your brows with gel and use our Ginger Mandarin Facial Spray. This refreshing mandarin mist will help restore your skin to a healthy glow. Providing you with the perfect base layer before you complete your makeup. 
Shop our Ginger Mandarin Facial Spray on Amazon!
Red lips
Let's be honest… Does a red lip ever go out of style? A red lip look is a makeup routine staple. It's captivating and daring, easy to style however you choose! 
If you want to take advantage of the sex appeal of red lipstick this fall, we recommend going for a slightly darker tint. 
Our Crush Cream Lipstick is a seductive, creamy red lipstick. The color is full of dimension and has the perfect amount of shimmer for the colder months ahead. 
Shop our Crush Cream Lipstick on Amazon!
Get your makeup essentials from Lique Cosmetics 
Ready to take on the upcoming makeup trends for fall 2022? You've come to the right place. At Lique Cosmetics, we have everything you need to get the look of the season. Whether you want to try out the sunkissed blush look or achieve a dewy finish with your foundation: We have you covered. 
Shop our collection of makeup essentials today to get started.