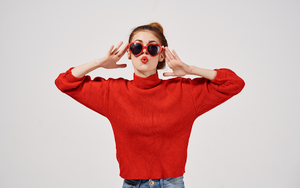 Valentine's Day Makeup Trends for 2022
Valentine's day is right around the corner! As you plan your date night with your boo or a night out with your friends, keep in mind that the perfect outfit isn't complete without the right makeup look.
Let's take a look at a few of our favorite Valentine's Day makeup trends for 2022. 
A Red Lip 
Let's be honest: A red lip never goes out of style. You really can't go wrong with the high-end look the perfect red lipstick can provide. 
It adds the perfect amount of sex appeal to any occasion and keeps all eyes on you all night long. Consider going light on the eye shadow or bronzer so that your luscious red lip look can be the centerpiece!
For a head-turning statement that will leave your lips soft and smooth, try our Creme Lipstick Daring Cream Lipstick. 
A Pop of Pink
It's Valentine's Day, what better time of year to play with a pop of color? We're obsessed with the idea of stealing the show with a bright, vibrant pink eye shadow. 
To ensure to achieve the over-the-top look you're craving, look for eyeshadows with tons of pigment and find a shade that complements your skin tone. From there, go easy on the lip color and go with your usual makeup routine. 
Soft Glam
Utilize neutral colors for an effortless look that will complete any outfit you wear, no matter your Valentine's Day plans. 
A soft glam look is an easy way to heighten your beauty and achieve a high-end look. Show off your eyeshadow skills, add the perfect amount of glow, and use your favorite lip color for a well-rounded look that is sure to turn heads. 
To add a bit of color to your cheeks, try our Brilliant Lip & Cheek Stick. 
Glowing Skin
Adding a soft glow to your makeup can leave your skin looking radiating and provide the perfect amount of dimension to your bone structure. 
Adding that extra highlighter on your cheekbones, brow bones, and the bridge of your nose can give you the more defined look you've been craving.
Try our Quartz Duo Highlighter & Eye Brightener for a natural glow that is sure to give your makeup look the extra shine you desire. 
Shimmer & Shine
Looking to stand out in a crowded room with a shimmery style? Look no further. Add a fun flair to your eye shadow game with a shimmery color for a bit of added dimension. 
For best results, pair your shimmery eyeshadow with a bronzer or highlight. This will ensure you have that shimmery effect with every move you make. 
Beauty in Simplicity
Sometimes, less is more. If you're looking for a way to let your natural beauty shine on Valentine's Day, there are little things you can do to enhance your natural beauty and emphasize your favorite features.
Play with a light pink lip with our Cashmere Liquid Matte Lip to add a bit of color that isn't overwhelming. Then, tame your brows with our Duo Mascara & Brow Gel to give you a complete look. From there, your natural beauty will do everything else.
Pump up the Glam
Whether you're planning a fancy dinner date or just want to dress up for the night, you can never go wrong with a full glam look. 
Allow your eyeshadow to do the talking and pair it with a simple lip. Play with eyeshadow colors, throw on a pair of falsies, and get ready to turn heads. 
To prep, your face for a full glam look, try our Face Primer Stick. 
Leave a Statement with a Cut Crease
We're living with bold makeup trends, especially ones for Valentine's Day. A cut crease allows you to add dramatic contrast and provide your eyes with more depth. The best part is: you can play up this look as much as you want. 
Experiment with color, add some glitter, draw some hearts or keep it traditional. The choice is yours!
Glossy and Complete
The natural and glossy look is a trend that we can get behind. Simple, put together, and a little bit of shine. The simplicity of this makeup trend allows you to accentuate your lips and give you an impeccable shine. 
Whether you're looking for a clear lip gloss or want to play with some color with our Devine Lip Gloss, this makeup trend lets your natural beauty speak for itself on Valentine's Day. 
Faux Freckles 
Add a bit of dimension to your natural complexion with a faux freckles look. All you need is a freckle pen or a light-colored brow pencil to get started. 
Whether you're looking for it to have a natural effect or you want to go over the top and dramatic, faux freckles can add a bit of fun to just about any Valentine's Day makeup trend you choose.
These are just a few of our favorite Valentine's Day makeup trends that are sure to leave you looking stunning on your big, romantic night. No matter your plans, make sure you have fun with your look, pair it well with your outfit, and have the time of your life.