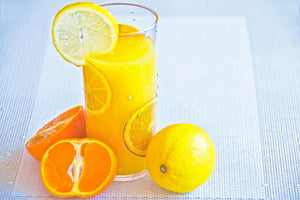 Vitamin C: Why You Should Include It in Your Beauty Routine
If you've never heard of vitamin C, your beauty routine has been missing out. It's one of the best ingredients in skincare and beauty products. 
That's because this ingredient is a natural antioxidant that has anti-inflammatory properties. This means it's great for protecting you from free radicals and maintaining a youthful glow.
Since our bodies don't naturally produce vitamin C, you need to get it from the foods in your diets, such as berries, potatoes, and citrus fruits. 
Here are a few reasons you should incorporate vitamin C into your beauty routine:
Beauty Benefits of Vitamin C
Aids collagen production
Studies show it's a natural collagen booster. This means it can help aid the collagen synthesis process and help reduce fine lines and wrinkles. It can also improve the overall texture and quality of your skin. 
Wound healing
If you have a sunburn, some studies show that applying a vitamin C serum can help heal the wound quicker. Which can help reduce inflammation and unwanted scarring. 
Protects your skin from free radicals 
Since it's an antioxidant, it can help protect you from free radicals. Free radicals include pollutants and sun exposure. 
When you use a vitamin C serum regularly, it can prevent the effects of sun damage and damage caused by free radicals. It can also help protect you from tobacco smoke, x-rays, and some of the unwanted molecules produced by the body. 
Hair health
When used regularly as a shampoo or oil, it can help hair growth, hair repair, and hair loss. It may also help mend split ends and give dry hair a hydration boost. 
Reduce redness and irritation
Since it has anti-inflammatory properties, vitamin C may help reduce redness by neutralizing free radicals. It may also even out your skin tone and heal irritation.
Improves your complexion
Vitamin C has skin brightening components that can help reduce undereye circles and brighten your overall complexion. 
When used regularly in your beauty routine, it can help reduce the appearance of dark spots and provide your skin with a youthful, plump glow.
How to use it in your beauty routine
Serum
Individuals in the skincare industry live by Vitamin C serums. They are a great add-on to your everyday skincare routine that can provide you with incredible results. 
Moisturizers
Many moisturizers also contain vitamin C as an ingredient. Even though it's not as concentrated as a serum or oil, it can still provide phenomenal results. 
Lip Balm
Your lips can benefit from vitamin C, too! Using a lip balm or lip butter that contains vitamin C can help improve the texture and quality of your lips. If you have chapped lips, it can also help your lips heal faster. 
Our Lip Butter contains Vitamin C, Vitamin E, and Jojoba oil. These ingredients work together to provide you with soft, supple lips all day long. 
Supplements 
Sometimes, your body needs to heal from the inside out. Taking a vitamin C supplement can help aid your immune system, help with collagen formation, and the maintenance of cartilage in bones and teeth. 
It can also help combat certain illnesses and help heal wounds. When you feel good, you look good too!
Next time you're shopping for new ingredients, keep an eye out for vitamin C so you can start experiencing the benefits, too. 
At LIQUE Cosmetics, we always strive to use
natural ingredients
in our products, so you can feel good about the cosmetics you wear. Make sure to check out our complete list of natural ingredients to learn more about how we use them in our products and how you can benefit.