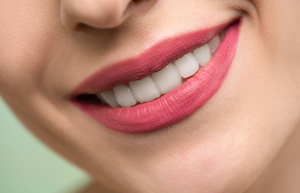 What Are the Differences Between Lipstick and Lip Gloss?
Are you obsessed with achieving the perfect lip for holidays, events, or special occasions? Do you have an extensive collection of lipsticks, glosses, and colors but never know which one to pick? 
Don't worry, we've all been there. In today's world, there are tons of colors and options to choose from. It can be overwhelming, especially if you don't know the main differences between the formulas. 
In the end: It all boils down to two lip products you need to be aware of: lipstick and lip gloss. 
We're here to walk you through everything you need to know about the differences between lipsticks and lip gloss, so you can find the perfect fit to add to your collection. 
Here's what you need to know about lip gloss vs lipstick:
What is lip gloss?
Lip gloss has a shiny finish. The glossy look is reflective and eye-catching but not too overwhelming. Lip gloss typically comes in a clear or subtle color, so it's easy to pair with your favorite everyday outfits, glamorous looks, or for a special event. 
Most lip glosses look and feel the same, except for the slight color variation. Some formulas are thicker than others, so you'll want to be mindful of the ingredients on the back of the label.
Benefits of lip gloss 
Ultra-hydrating formula

Easy application (You don't even need to look in the mirror!)

Subtle yet playful colors to choose from

Added shine and glossy finish

Carry with you everywhere you go
Our lip gloss is enriched with vitamin E and jojoba oil. It's a non-sticky vegan formula that hydrates your lips while you flaunt a gorgeous subtle shine. We have over five different colors to choose from that are all designed to add an elegant, soft, and subtle touch to your everyday looks.
Pro Tip: Pair any of our lip glosses with our cream lipstick. This is a great way to achieve a shiny, kissable pout that stands out.  
What is lipstick?
Lipstick has a creamier, thicker texture. The color is much more pigmented than lip gloss, making it great for adding a pop of color. Lipsticks often come in a variety of finishes. You can keep things classy with a matte finish or take a playful approach with a creamy look - the choice is yours. 
Always be mindful of the ingredients. Some formulas can be overly drying to your lips if you aren't careful. Always use a lip balm before you apply your lipstick for the best results. 
Benefits of lipstick 
Bold and vibrant color 

Deeply hydrates and replenishes lips

Provides a captivating finish to your go-to makeup looks

Choose from colors that complement your complexion

Extra confidence boost
Our stunning cream lipstick collection is designed to make a statement and keep all eyes on you everywhere you go. Whether you want to keep things soft and pink with our Kitten Cream Lipstick or daring and bold in our Fetish Cream color - the choice is always yours. 
The beauty of lipstick is you can get as playful as you desire. All our formulas are long-lasting and provide pigmented color with just one swipe. 
To ensure flawless lip color application, don't forget to exfoliate with a lip scrub! Scrubs will buff away dry flakes, so your favorite lip colors can take center stage.
Lip gloss vs. lipstick - which one is best?
This is a personal preference. Looking for a bold, captivating color choice to pair with a pretty dress? Consider ruby red lipstick. Want a quick and easy way to elevate your everyday looks? Consider lip gloss. If you're obsessed with maintaining a perfect pout, you may consider carrying lipstick and lip gloss in your purse, so you always have two options.
Which one lasts longer?
Lip gloss wears away quicker than lipstick. Some lip glosses are long-lasting, but you may need to reapply them to maintain a glossy appearance. If you're looking for an all-day color for a special event or a date night, you'll want to go with lipstick instead. 
Explore Lipsticks and Lip Gloss From Lique Cosmetics 
Ready to add to your collection of lipsticks and lip glosses? You've come to the right place. At Lique Cosmetics, we have an extensive collection of colors and looks to fit every occasion. Whether you're getting ready for date night or need a subtle color to carry with you in your purse: We have you covered. 
All of our formulas contain lip-loving ingredients that hydrate and nourish your lips, so you can feel confident about the products you choose to use. 
Start shopping today to experience the Lique Cosmetics difference.