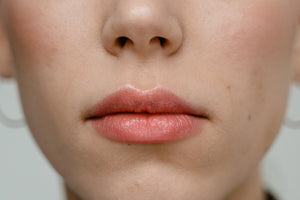 Lip butter is the holy grail of hydration. Whether it's a cold winter day or you're out and about in the middle of the summer - you'll need a way to keep your lips moisturized throughout the day.
If you don't already have lip butter hiding away in your purse or backpack - it could lead to unexpected dryness, flaky skin, or cracked lips. 
We're here to walk you through everything you need to know about lip butter so your lips can start experiencing the benefits. 
What is Lip Butter?
Lip butter is similar to lip balm. However, the texture tends to be slightly different. Lip butter is creamy and comes in a jar that you dip your finger in and then apply to your lips. Lip butter contains a hydrating formula that's designed to give your lips a moisturized pick-me-up throughout the day. It's also a great product to incorporate into your everyday skincare routine to lock in moisture and even add a subtle shine. 
While lip balm comes in a small tube that you apply directly to your lips. The formula tends to not be as creamy and doesn't contain all the nutrients your lips need, meaning you'll want to look at the ingredient label before you start to use it every day. 
You can add one or both to your everyday skincare routine: the choice is yours! Both provide hydrating benefits for your lips. 
The Benefits of Lip Butter
Formulated with hydrating ingredients 
Lip butter is formulated with next-level hydrating ingredients that lock in moisture and soothe irritation. Most lip butter contains vitamin E, aloe vera, honey, coconut oil, and jojoba oil. Together, these ingredients work to soothe irritation, hydrate your pout, and give you the luscious lips of your dreams. 
The perfect go-to for your lips 
When you're at school, work, or the store and your lips need some extra hydration - you can always count on a lip butter to deliver results. They come in a small compact jar that's perfect to bring with you in your purse or backpack. So if the changes in the weather or external factors start to weigh on your lips, you'll have a go-to solution to keep them hydrated. 
Combat dryness 
You never know what the day will bring. It could be a hot summer day, a day full of chilling wind, or a cold winter morning - and all these conditions can wreak havoc on your lips. To keep them hydrated, you'll need a potent formula that's jam-packed with nutrients. This way, you can easily reapply throughout the day and maintain your confidence.
Soothe irritation
If you're constantly battling dryness, flaking, or cracked lips, you'll need something thicker than your everyday lip balm. Lip butter not only keeps your lips hydrated, but they also contain nutrients like aloe vera that help soothe irritation and prevent inflammation. So you can eliminate imperfections before they take away from your kissable pout. 
Anti-aging benefits 
Lip butter formulated with ingredients with vitamin E or other antioxidants can help you prevent fine lines and wrinkles. This will help you maintain your lip's youthful appeal and give you an extra glow. 
Lique Cosmetics Lip Butter 
Ready to experience Lip Butter for yourself? You've come to the right place. At Lique Cosmetics, we have a Lip Butter that's formulated with all the nutrients your lips need to thrive and look their best. Our formula contains a potent blend of lip-loving ingredients that will help you achieve a soothing glow and an added moisture boost every time you go to reapply. 
Upgrade your lip care routine 
Ready to trade in your boring lip balm for something more hydrating? You've come to the right place. However, you can't just switch to Lip Butter and expect to see results. 
If you want to achieve and maintain a kissable pout, you'll need to rethink your lip care routine. Lips look their best when you provide them with extra TLC and attention. 
At Lique Cosmetics, we have everything you need to create a next-level lip care routine. Whether it's a sugar scrub, a lip mask, or a hydrating lip gloss: We're your one-stop shop for all of your lip essentials. 
Start shopping today to find the products your lips deserve.