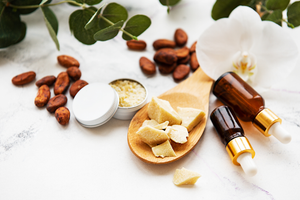 Why You Should Use Natural Ingredients in Your Beauty Routine
Your skin deserves the best of the best, and unfortunately, some beauty products on the market aren't formulated with the best. They often contain synthetic ingredients that won't help you reach your beauty care goals. These synthetic ingredients aren't always bad in moderation. 
However, if you can opt for natural ingredients, you always should.
Here are a few reasons why:
Eco-friendly and sustainability 
Natural ingredients are as real as it gets. They aren't created in a lab and don't contribute to pollution. Plus, most synthetic ingredients aren't good for the soil, animals, or the environment. 
When they seep into the ground, they can negatively impact ecosystems for years to come… So, why would you want to put those products on your skin or face? 
Safer for your skin
With natural ingredients, you know what you're getting. This means you never need to worry about skin irritation or reactions that synthetic ingredients can cause unless you're allergic to something.
Understanding the back of a skincare label with ingredients you recognize is always a great sign.
For example, Sunflower Seed Oil is high in vitamin E, an antioxidant that combats free radicals and promotes cell regeneration to revive dry, chapped skin. You may not be able to find that type of defense with any synthetic ingredients. 
A better choice for sensitive skin
If you have sensitive skin, you'll want to be picky with the ingredients you choose for your skin because it could cause unwanted reactions or irritations, which is never fun. 
A great ingredient for sensitive skin is Jojoba Oil. This versatile oil is a humectant. It provides a soothing seal for skin and lips and creates a protective barrier that helps lock in moisture and prevents dehydration. 
Pro tip: If you have sensitive skin, try our Face Primer Stick before putting on your makeup. The vegan formula includes botanical oils, cucumber extract, and green tea to help hydrate tired skin while minimizing redness, blurring pores, and evening-out skin tone.
Buy our Face Primer stick on Amazon!
Stay Cruelty-Free
If you want to be part of the movement to eliminate cruelty-free products, you may want to incorporate natural ingredients into your routine. 
We at Lique are committed to cruelty-free beauty. You can feel good about the products you put on your face and the animals you get to save. 
Packed with nutrients 
Beauty products that contain natural ingredients contain the nutrients your skin needs to thrive. That means you aren't only hydrating your skin, but you're giving it the nutrient boost you need to maintain a youthful glow for years to come. 
If you didn't know: Cocoa Butter is a powerful antioxidant that contains Vitamin A, C, and E. It's a great ingredient you'd want in any products you put on your face, like your Bronze Duo Highlighter. 
Buy our Bronze Duo Highlighter & Eye Brightener on Amazon!
Aloe Vera is also an antioxidant and has anti-inflammatory properties, making it a great ingredient to protect your lips! 
The more you know, the better! Being more conscious of the beauty products you purchase and the ones you put on your skin will help you take your beauty routine to the next level.
The next time you're shopping for products to re-up on, make sure you look at the label and know the ingredients. When you shop at
Lique Cosmetics
, you can rest assured knowing we use natural ingredients in our beauty products and try to be as transparent as possible about the benefits of our
ingredients
.