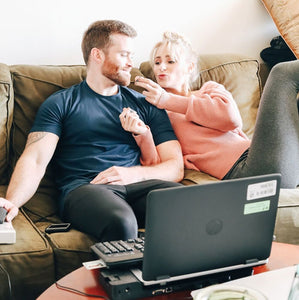 Work from Home Self Care Routine
These days, we're all discovering and creating a new kind of normal as we navigate COVID-19 and quarantine during the coronavirus pandemic. Whether that means working from home, exploring new creative hobbies, or virtual hangouts with friends and family, now more than ever, having a self-care routine should be at the top of our to-do lists. Caring for our minds, bodies and souls is essential as we work through stresses and changes from the current pandemic.
Most of us aren't worried about full-face makeup looks right now, but we still want to look and feel fresh for our video meetings and while working from home in general. Taking care of ourselves and maintaining our self-care routines during the pandemic is so important for our overall mood and productivity! In this video, our brand manager for Lique Cosmetics, Annabel, shares how she uses Lique products as part of her daily beauty and self-care routine while juggling the demands of virtual meetings and working from home.
Annabel's go-to work from home look starts with a freshly moisturized face, which is critical for overall skin health, followed by BB cream for evening out her skin tone without the heaviness full-coverage foundation can cause.
"I need to look alive when I go on these calls, because I do lots of video calls throughout the day. And it's important that I don't look like a zombie."
Next on her work from home self-care routine list is
Lique Lip Butter
, which is packed with soothing, moisture-rich natural ingredients like honey, aloe vera and vitamins A & C.
"I have the driest lips, and this stuff is a game changer," says Annabel about Lip Butter. "It's infused with real, natural honey. It's so silky when you put it on, and it has a hint of glitter."
Vitamin C smooths the appearance of fine lines and wrinkles, while aloe vera and honey infuse extra moisture into lips while boosting the complexion with a healthy glow.
"What's most important and why I wear it throughout the day, is that it sets my lips up for success and for whatever product I use on top of the Lip Butter."
With the necessity to wear masks when we're out and about, and staying in close quarters other than that, a lot of us just aren't interested in wearing our full-face makeup looks right now. And that's completely okay! But a lightweight moisturizing hint of lip color? Sign us up!
Annabel uses Lique Lip Balm Cheeky to complete her work from home daytime self-care routine.
"I go on a lot of Zoom calls throughout the day, and what I like about it is that it just gives me a little bit more life and it solidifies my look … And then I'm ready to seal some deals."
Lique Lip Balms
feature a vegan formula with ultra-nourishing and conditioning cocoa butter, coconut oil, and jojoba oil.
"It has all of these great moisturizing ingredients that help my lips stay hydrated throughout the day … I love it," Annabel says.
How are you using Lique as part of your daily self-care routine? Make sure to tag us @lique_lips and let us know!