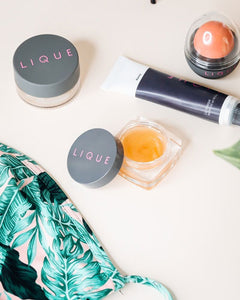 Natural Lip Care Solutions for Essential Workers
We are so grateful for all of the essential workers braving the coronavirus pandemic and risking their own health and safety to help keep our communities supplied in such uncertain times. By now we're all acquainted with social distancing best practices and wearing a face mask when we're in public, but for most of us, our time out is usually pretty brief and we can remove our masks once we're back in our private spaces.
Essential workers are wearing face masks for entire work shifts, with little opportunities for breaks without masks in between. Wearing a face mask is critical for health and safety, but as we've been connecting with essential workers lately, we've also been learning that over an extended period of time, wearing a face mask can cause seriously dry lips.
Luckily, lip care is our specialty here at Lique! With the right mix of our natural lip care products and an easy daily routine before and after wearing a face mask, essential workers can help reduce and prevent the discomfort that comes with aggravated dry lips.
The most important thing anyone can do to help eliminate the flakiness from dry lips is to exfoliate.
Lique Lip Scrub
contains natural sugars to help gently buff away dry skin, leaving lips smooth and prepped to receive extra nourishment from our other natural lip care products. Our Lip Scrub also contains avocado oil and vitamin E for intense, reviving hydration as you exfoliate. To all of our essential worker friends out there, we highly recommend using Lip Scrub first thing in the morning before starting your day, and even at night after you take off your face mask!
After exfoliating lips, you'll want to give them an extra dose of moisturizing care with
Lip Butter
. This unique whipped oil contains soothing aloe vera, nourishing honey and antioxidant vitamins A, C & E. And hey, as an added bonus, Lip Butter will be helping to smooth out any lines and wrinkles around your lips every time you wear it – it'll be working overtime while you're putting in your own hard work!
After applying Lip Butter, we recommend sealing in all of that moisturizing care with our
Lip Masque
, which has a cushiony feel that's soothing and so comfortable to wear. Infused with the ultra-hydrating properties of cocoa butter and jojoba oil, any Lique Lip Masque you choose will lock in moisture and prep your lips to take on the day, or rest easy at night.
If you love indulging in a little more of any good thing (is there anyone who doesn't?), you can finish the steps above by swiping on one of our vegan
Hydrating Lip Balms
. Infused with a hint of color in a weightless, non-sticky formula that contains coconut and jojoba oils, it's perfect for applying before you head into work, and reapplying throughout the day as needed. It won't stick to your face mask, and it'll keep your lips feeling fab all day long. PS. Don't forget to reapply as a quick refresher for your video chats after work!
We're not sure when the pandemic will be over and when wearing a face mask will no longer be critical, but one thing we are certain about is that by following this simple routine with natural care, good-for-you products, essential workers can help keep dry lips hydrated and comfortable while wearing face masks.
And to all essential workers courageously keeping us afloat, our Lique family would like to extend our heartfelt gratitude to you, and to your families.
We are humbled and truly thankful for your sacrifices and services.