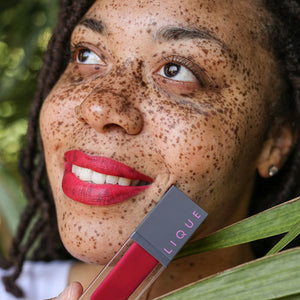 As a brand that believes in, promotes and supports beauty from the inside out, Lique Cosmetics celebrates the diversity that makes each one of us the incredibly special individuals – and human collective – that we are.
And because we're all uniquely, wonderfully diverse, the beauty and care products we use should be too. Makeup colors that match or complement our beautiful skin tones no matter where they fall on the spectrum, and products that nourish our lips and skin whether we're young and just starting our care & cosmetics journey, or we're reveling in those hard-earned golden years of life.
Lique Cosmetics was created by a team of strong women, and our mission is to redefine the care of your lips with our natural, high-performing formulas that deliver results no matter your skin color, age, gender, profession or how you celebrate your own diversity each and every day. Know that we are celebrating with you, and our team continually channels our passion into bringing prestige care and color solutions to the beauty industry that everyone deserves, at prices that won't break the bank.
In celebration of diversity, we asked some of the talented Black Artists we've worked with to share their thoughts with us and our community on the importance of representing people of deeper complexions in the beauty industry, and here are their words of wisdom:
"Beauty comes in all shades, complexions, and sizes. As a Black makeup enthusiast, I'm so excited that more and more brands appreciate the uniqueness of deeper complexions and the aesthetics that are generally shared by Black people. As Black women, we deserve to not only be seen, but to also be celebrated. Black is beautiful, and I'm happy that Lique Cosmetics recognizes this." - @blaketelford86
"As a black makeup artist, it is important for me to be able to cater to my people, because oftentimes it is harder for others to properly service black women. For example, utilizing products that will enhance our beauty and not change our features completely." - @brookli_shay_mua
"I take pride in being a black artist because I know I am sparking the interest of other little brown girls who rarely see themselves represented in the beauty industry. It is so important for the youth to see themselves represented in a positive light so that they have the confidence to do the same." - @doniellemikel
"Black artists use their pain to make some of the most beautiful art ever created! Our voices are important and will be heard, our art is magical and will be seen by many, our hearts are vibrant and will touch the world!" - @kiarasherman5
Let's keep the conversations going, let's continue to support each other and all of the amazing, diverse qualities that make each and every one of us beautiful, inside and out.
We celebrate your truth, your beauty. Always.