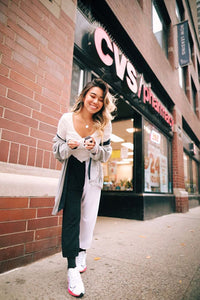 Best Natural Lip Care Products Available in CVS
We're so excited to share with you guys that our products are now available at select CVS locations! If you're in Connecticut, Massachusetts, New Jersey, New York, Pennsylvania, or Vermont, you can now find our natural Lique products at your favorite CVS! 
Have you ever stopped in to pick up a prescription or a bag of chips and found yourself idly browsing the skincare aisle, longing for a little chapped lip pick-me-up? Now you can grab one of our
hydrating lip balms
or
whipped-oil lip butters
without even having to leave the store!
CVS will be carrying the lip balms and butters, as we mentioned, along with our
rejuvenating lip masks
,
glossy lip plumpers
, and brand new hemp oil versions of our masks and balms! If you've never used hemp oil in your skincare before, let us tell you a little bit about it.
Hemp oil, or hemp seed oil, is made by cold-pressing hemp seeds! It has plenty of benefits, but when it comes to skincare, this oil is a serious heavy lifter!  Despite being an oil itself, using it on oily skin helps to balance it out and reduce overproduction. It moisturizes without clogging your pores, so your skin doesn't feel like it has to overcompensate! 
The amount of oil your skin is producing affects almost every aspect of it, so by balancing that production, hemp oil can also reduce your chances of breakouts and dryness. Talk about a renaissance product!
On top of all of that, it soothes inflammation and conditions like eczema because it's full of omega-6 and omega-3 fatty acids. They stimulate the production of new cells and help keep that new skin moisturized, which, coincidentally, does wonders for preventing wrinkles and other signs of aging. It's never too early to start working against those fine lines!
Ellery Lee, from elleisalwayshere, tried out some of our products available at CVS. After using our lip plumper, lip mask, and lip balm, she said: "I am feeling way more confident and protected with my lips being soothe and moisturized this Fall. I am so glad I found out about this brand that uses all-natural ingredients and is completely vegan and cruelty-free, all at such an affordable price! And guess what, this brand is created by women!"
If you're not sure whether or not your local CVS carries our products, check out our
store locator
! You can always contact us if you need to, we're happy to help you any way we can! Even if you're not on the east coast, you can still find our products at Target, Kohls, and right here on our website! 
Our products are cruelty-free and natural, and our balms and glosses are completely vegan! You don't have to worry about damaging the environment or contributing to anything you don't agree with when it comes to our products. Keep your lips healthy and soft and your mind guilt-free by using our products in your daily routine!