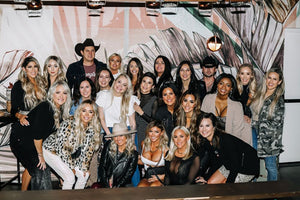 Lique Celebrates Brand Ambassador Summer Duncan at Bridal Shower
In February, the Lique team headed to Nashville to celebrate the upcoming nuptials of one of our brand ambassadors, Summer Duncan, soon-to-be bride of country music star Jon Pardi. Not only were we thrilled to host a bridal shower in Summer's honor, we also had a blast connecting with guests at the party about Lique natural lip care products!
In between indulging in all of the yummy cocktails, good eats and festivities in general, wedding shower guests were able to build their very own lip kits of natural lip care and color cosmetics from Lique. As a brand created by women, we loved connecting with other women about Lique. We truly enjoyed answering their questions and helping them find their perfect products, whether they were into wearing a long lip, a shiny lip, a bold lip or a natural lip. Lique has something for everyone!
Interested in creating your own Lique
Lip Care Bundle
or
Lip Color Bundle
like Summer Duncan's friends? Click the links and build your perfect custom bundles at a discount!
We've been talking about how we had a great time, and here's what some of Summer's crew had to say about the bridal shower:
"
Such a fun night filled with AMAZING products, yummy drinks and the best sliders!
💄🍸
🍔
" -
_karbrooke_
It was definitely a party we'll remember. Our team loved every minute of getting the chance to celebrate LOVE and LIPS, and even some newfound love for lips by the guests! (We're also not ashamed to admit we totally fanned out at getting the chance to meet country music star Jon Pardi, Summer Duncan's fiancé. Aren't they the cutest couple?!)
We're wishing Summer and Jon beautiful new adventures together full of love, laughs, and of course, healthy, happy lips cared for by Lique natural lip care products.