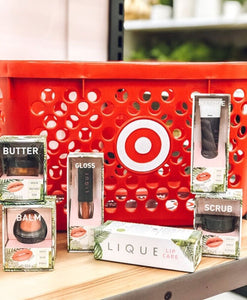 LIQUE Products for Dry Lips Now Available at Target
Attention Target shoppers...we're so excited to share that LIQUE Lip Care and Lip Color products for soothing dry lips are available in select Target stores! You read that right; now you can swing by the beauty section on your way to grab groceries, kitchen supplies or the shirt you saw last week, and pick up some moisturizing goodness for your dry lips, too. Why wait for ship time when you can snag your favorite products the same day?
Currently Target is carrying select lip essentials like LIQUE Lip Masques, Lip Balms, Lip Glosses, Lip Butter, and Lip Scrub. All are cruelty free and infused with natural ingredients for easy, everyday color and care you can feel good about - and of course the added benefit of moisturizing and protecting dry lips. The Balms and Glosses are also vegan!
What are shoppers saying about LIQUE after finding at Target?
One Delightful Home
shared, "I REALLY love the balm (the price is super reasonable) … this might be my favorite product I have been using. I feel like being a mom, I have very little time to get myself ready for the day & a hint of color helps me to look more put together." Read her entire review of LIQUE
here
.
All Things Target
noted, "I have searched far and wide for a good lip shade, and the 'Forever Young' LIQUE Lip Gloss has officially ended my search … this stuff is smooth as butter. Plus, I love the fact that it is made with all natural ingredients." You can read her entire review
here
.
And one more because we can't resist...
Target Therapy
said about the LIQUE Lip Scrub, "I love that it revives chapped, dry lips! It's a must in the first step in lip care." Read the full post
here
.
How can you find out if LIQUE is in a Target near you? Check out our 
store locator
and put in your zip code for quick and easy results! If your local Target doesn't happen to carry LIQUE, don't stress, you can still purchase here on the site.
And because LIQUE products are easy on the budget, you'll only risk buyer's remorse over those three pairs of shoes instead of the natural, moisturizing color and care you're giving your pout.