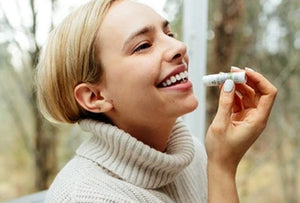 7 Clever Ways to Use Lip Balm (Besides Your Lips)
Lip balm should be a staple in your makeup bag. It may not have all the bells and whistles of a plumping lip gloss or a dazzling ombre lipstick, but lip balm is a must for keeping a healthy pout. All-natural lip balms are also super versatile! There's a lot you can do with them that you wouldn't necessarily have thought of. Try these tricks to take lip care basics to the next level. 
Lip balm: a simple must-have for every makeup lover  
Lip balm is the swiss army knife of makeup -- versatile and multipurpose. You can always put it to good use, even if your lips are already smooth and supple. (Pro tip: It's ideal for preventing mild dryness and irritation when used on its own.) 
Using the right lip balm gives you tons of options for fine-tuning your beauty regimen. Non-toxic, nourishing ingredients can benefit more than just the sensitive skin on and around your lips! Try out these unexpected lip balm hacks.
Moisturize dry cuticles  
Dry, snaggly cuticles are the worst. Picking at cuticles? Up the ouch factor by 10. Maintaining good nail health can easily slip through the cracks, but it's essential. Before your nails need some serious TLC, keep on top of things by dabbing lip butter infused with anti-inflammatory ingredients like aloe vera and vitamin E on your cuticles. Make it a part of your regular beauty routine at least three days per week! 
Bad day? Combine your cuticle treatment with a hand massage and take a breather. You deserve it.  
Smooth down pesky flyaways   
Frizzy flyaways that won't be tamed, no matter how much you attack them with your brush? Yikes. Lip balm will do the trick! 
Rub a small amount of lip balm in between your ring and pinky fingers, then comb them through the top of your head.  If your scalp tends to get oily, use a spritz ofdry shampoo first. 
Make an eye gloss 
At-home beauty hacks became huge during the pandemic, and they're here to stay. Get crafty, and use your lip balm to make a stunning eye gloss! Apply a few swipes of balm with your eyeshadow brush; let the product sink in for 1-2 minutes, and then apply your favorite eyeshadow. 
Style your brows
No brow gel? No problem: Just use lip balm. It's a non-pore clogging alternative to most brow products! If you're on the go and need a quick fix for your brows, try a brow-and-mascara duo. 
Lip balm is also fabulous for trying soap brows -- embracing your natural brow shape and texture by grooming them upward and outward. Play up your natural beauty, babe! 
Brighten and sculpt your cheeks 
If you want to make your highlighter look even more vibrant, dab lip balm on the apples of your cheeks to really make it pop. 
Dewy, glass-like skin has dominated Instagram for years, and it isn't going anywhere any time soon. So why not jump on the trend with good-for-you ingredients? Lip balm made with jojoba oil mimics the natural oils in our skin and boosts hydration, while coconut oil offers healing and anti-redness effects. 
Erase smudges from eyeliner and mascara
It's allergy season, and you know what that means. Your mascara and eyeliner just won't stick, no matter how much setting spray you use. Wiping away the mess with a tissue can ruin your foundation and cover-up — not to mention irritate the delicate skin around your eyes. Luckily, you can use lip balm to keep your eye makeup on point. 
Coat the edge of a tissue or Q-tip with a fine layer of lip balm and gently wipe away your excess eye product. Pat dry with a clean tissue or your fingertips. 
Minimize fine lines around your eyes
It's never too early to start thinking about keeping your skin smooth and free of fine lines. Infusing the right acids into your skincare routine is a good place to start. You can also use the smoothing ingredients in lip balm to keep the skin surrounding your eyes healthy and supple. 
First, exfoliate and/or tone your skin to prep for your favorite moisturizers. Apply your go-to moisturizer first and then add a fine layer of lip balm. Rub in the lip balm in small, gentle motions with your ring or pinky finger.