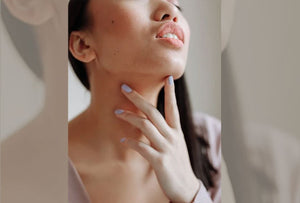 Here's How to Get Rid of Dry Lips Once and for All
Chapped lips that just won't heal are a headache. But lip care products that boast maximum hydration usually end up causing even more peeling and irritation. Find out the ultimate all-natural routine to banish dry lips—for good. 
The top 4 causes of dry lips 
Sun exposure  
Winter weather isn't the only culprit of chapped lips. If you're all about beach days and lounging by the pool,  you're more likely to struggle with dryness. Melanin in our skin is a natural buffer against the sun. The only catch? We don't have any in our lips, which is why they tend to burn more easily. 
Double down on sun protection with SPF made specifically for your pout and a lip balm infused with natural oils that offer UV protection. Jojoba oil and coconut oil in all-natural lip balm have an SPF of under 10. Pair this product with the right non-toxic mineral sunblock to fight fine lines and dehydration. 
Dry weather 
No matter the season, dry air can do a number on your lips. Being cooped up inside with the AC or heat on full-blast can sap your skin of moisture, and your lips are the first place you'll see signs of dryness. 
Keep your lips protected with an occlusive, a natural barrier against dehydration. Using an occlusive makes essential oils and other super hydrators in your favorite lip balms and lip glosses way more effective. If your lips are cracked, irritated, and chapped around the clock, consider switching toothpaste and using a gentler face wash. What works well for your face might dry out your lips, where our skin is thinner.
Using the wrong chapstick 
Here's the thing about occlusives: They work best when they're applied on top of softening and smoothing products. Vaseline and Aquaphor contain petroleum, a heavy-duty occlusive that keeps your lips from losing moisture. The only problem? If your lips are already chapped, petroleum prevents them from soaking up hydrating ingredients. 
Check your chapstick for other red flags: 
Menthol

Phenol 

Salicylic acid

Fragrance 

Propylene Glycol 

Parabens
Irritating lipstick 
Commercial makeup contains ingredients that bother sensitive skin, particularly alcohols and fragrance. If your lips feel stiff and dry when you wear your favorite lipstick, think about switching to organic lipstick or lip gloss. Matte lipstick can also dehydrate your pout — stick to a creamy formula. 
Non-toxic lip care for all-day hydration
The right lip care routine can transform sad, irritated lips into a gorgeous, smooth pout! Peeling and irritated lips are a ton of maintenance and need constant care. Worry less about keeping your lips healthy by following these simple steps: 
Step 1: Exfoliate 
The best time to exfoliate your lips is right after a hot bath or a shower. Take a large drop of your favorite sugar-based lip scrub and gently rub it across the surface of your lips for at least 30 seconds. Wipe away dead skin with a damp washcloth. (Note: If your lips are bleeding and split, avoid exfoliating and go to step 2!) 
Step 2: Use a humectant-based lip product 
Humectants make your lips silky and soft. Dab on a few layers of lip balm made with honey and jojoba oil, two highly effective humectants! If you're wearing lipstick or a lip stain, save your lip balm for the last step. (Lip balm can cause lipstick to bleed and smudge.) 
Step 3: Soothe your lips in style 
If your lips are too irritated for lipstick and lip gloss isn't hydrating enough, try a tinted lip mask. Keep your lips from drying out while you look glam. It's a great choice for this year's "no-makeup" makeup trend. 
Step 4: Take off your makeup 
We can't stress enough how important it is to always. Take. Off. Your. Makeup! Especially if you wear conventional lip glosses and lipsticks, which often contain drying ingredients like alcohols and fragrance. Pair a moisturizing face wash with an oil cleanser — your everyday makeup remover may be too stripping. 
Step 5: Apply a lip mask before bed 
Even drinking water before you go to sleep isn't a surefire solution for waking up with dry lips. We lose water overnight, so keep your lips hydrated while you get your beauty rest with a creamy lip butter.