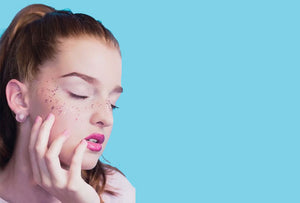 Make your pout POP with a summer ombré lip!
This season is all about experimenting with bold, bright lip color in shades of pink, red, and purple. Why settle for one look when you can combine two or three of your favorite lipstick colors? Here's how to make a splash at all your summer get-togethers with a fierce ombré lip! 
What is an ombré lip look? 
Makeup in Summer 2021 is all about 90s throwbacks (ribbed tees and cute scrunchies? Yes, please!). The ombré lip is leading the way. The gradation from dark lipstick to a lighter hue in the center of your lips dresses up any look. You can use up to three shades in the same color family. 
As a bonus, these variations in color creates the illusion of fuller lips. For example, a 'Stunning' shade of rich raspberry will really make your pout pop when outlined around a peachy shade of pink. 
How to create the ultimate summer ombré lip
This year's "it" shade for summer lips? Coral! Classic, no-frills makeup is in, so playing with variations on this tropical shade is a safe bet for a stunning ombré lip.
Ready to recreate this eye-catching makeup look? Grab these tools and pucker up: 
All-natural lip scrub (optional) 

Moisturizing, non-toxic lip balm 

Lip liner 

Lip primer 

2-3 lipsticks from the same shade family

Makeup setting spray or powder 

Lip brush (optional but highly recommended!) 
Step 1: Exfoliate and smooth your lips (optional)
Let's be real: The summer months can be tough on your lips. From sand and surf to bright, sunny days, it's important to protect and soothe your pout on the reg. 
If your lips are a little cracked or peeling, start off by exfoliating with a gentle lip scrub for 1-2 minutes. Remove the lip scrub with warm water and finish with just a dab of neutral lip balm for optimal hydration. 
Step 2: Plump your pout with primer
The ombré lip look is a lit-tle trickier for long wear, especially if you're headed to the pool or hanging out grill side. That's why primer is a must! Using a high quality lip primer is key to evenly applying your ombré lip colors and preventing it from fading. 
After your lips are freshly exfoliated and lightly moisturized, apply one coat of lip primer; let stand for around five minutes before applying a second coat. (Interested in whipping up your own primer? We love this body safe tutorial!) 
Step 3: Line your lips with a dark colored liner 
Lip liner keeps your lipstick from feathering and fading. The tone should complement your bolder shade of lipstick. (Hint: You can make an even bigger statement by picking a lip liner that's one shade darker!)
Using our Lip Definer in 'Scandal', line your lips twice. Draw an inverted triangle underneath your cupid's bow for maximum dimension. (For an even more intense ombré look, go one step darker with our Lip Definer in 'Mistress.')
Step 4: Apply a darker shade of lipstick 
Next up, accentuate your lip liner with our matching liquid matte lipstick in 'Crush,' a warm, vampy red. Apply one coat of lipstick with your lip liner as a guide. Make your lip color long lasting by applying a layer of makeup setting powder in between a first and second coat. 
Step 5: Blend the darker shade into a lighter shade
This step is crucial to achieving that subtle, gorgeous gradation of color. Apply 'Flirt,' our vibrant liquid matte lipstick in coral, onto the center of your lips. 
Don't forget to use a lipstick brush and gently blend out the demarcation line between the light and dark colors. Avoid darkening the center of your lips by drawing the brush towards the outer edges of your lips. 
To take your look to the next level, allow both lip colors to set for several minutes and then apply a dash of 'Cherish,' the perfect liquid matte neutral, onto your Cupid's bow. It's a quick and easy way to make the coral hues even bolder and your lips look even larger. 
Step 6: Blend the darker shade into a lighter shade
Finally, use another coating of makeup setting powder or a makeup setting spray to lock in your ombré lip. Up the glam factor by dabbing a dash of shimmery Angel Lip & Eye Effect onto the center of your lips!