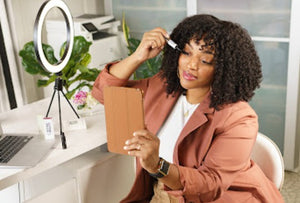 3 Products That Will Simplify Your Beauty Routine for a Fresh-Faced Glow
While spending two hours in your bathroom each morning as you put on your makeup can be entertaining, this much free time isn't always in the cards. 
If you're still chasing after that fresh-faced glow despite having a hectic work and social schedule, there are several products that can help you achieve a dewy look in minimal time. 
Two-in-one makeup and skincare products can significantly cut down the time and money you spend on your beauty routine. 
They will also make sure your look is cohesive so that you don't step out of your home looking like you applied your makeup in the dark. 
Two-in-one products are also exceedingly handy for when you're traveling as your makeup back won't be nearly as heavy. 
Plus, you'll have more time to spend lounging on the beach if your makeup routine only takes a mere fraction of the time that it used to. 
For more tips on how to reduce the time you spend getting ready each day, check out our blog post "6 Hacks to Cut Your Makeup Routine in Half". 
At Lique Active Cosmetics, we carry tons of two-in-one products that will give you a glowy complexion and highlight your best features.
Remember that when it comes to applying makeup, less is truly more. 
If you're looking to update or even downsize your makeup bag, consider purchasing these three two-in-one products.
Those who stay on top of current fashion and makeup trends know that a bushy boy brow is the hottest accessory right now. 
When shopping around for a brow gel, it's important to find a product that promises a long-lasting, stronghold so that your brow hairs don't fall down halfway through the day. 
Just like the curls you put into your hair each morning, you want your brows to stay just as perky. 
Using a brow gel will also make your eyebrows appear thicker and fuller, which is exactly what every woman wants. 
A Duo Mascara & Brow Gel can be used on your lashes as well, adding volume and separating each lash for a more defined appearance. 
Sunflower seed oil and shea butter hydrate the brows and lashes for a youthful look.
For those who want the bushiest eyebrows possible, consider filling them in with a brow pencil before or after fluffing them up with a gel.
A good highlighter will attract light to certain features on your face, highlighting them and giving the illusion of brightness. 
It's near impossible to achieve this kind of glow naturally, especially if you're working a 9 to 5 job. But with a two-in-one highlight stick, you can finally say "goodbye" too tired- and dull-looking skin. 
The Duo Highlighter & Eye Brightener can be used on its own or during contouring to give the illusion of lifted brow bones. 
This product will keep your face glowing all day long while covering your under-eye dark circles. 
It's made with vegan ingredients that will nourish and hydrate your skin, which means that your face won't feel dry when you remove your makeup before heading to bed. 
For tips on how to get glowing skin, quite literally in your sleep, click here. 
The two-in-one highlighting stick can be applied above and below your brow bone, around the inner corners of your eyes, on the top of your nose and cheekbones, and a little dab onto your cupid's bow for a finishing touch. 
You'll have a sunkissed glow in a matter of minutes. 
No makeup look is complete without some rosy cheeks and lip color. 
By relying on one of Lique Active's multipurpose Lip & Cheek Sticks, you'll achieve a natural flush without having to use several different products. 
Simply run the product over your cheeks and blend it in with your fingers or a beauty sponge. When using it as lipstick, do the same but use your fingers to gently rub it in. 
Lique Active Cosmetics has Lip & Cheek Sticks in four gorgeous color options, depending on your skin tone and makeup preferences. 
Each stick is made with natural ingredients, like shea butter and rosehip oil, that will keep your lips and cheeks properly hydrated. 
If there's one product you should prioritize in the morning when you're running late for work, be sure to grab your Lip & Cheek Stick. 
Even if you flew out the door without drinking a single sip of your coffee, you'll still appear put together upon arriving at the office.