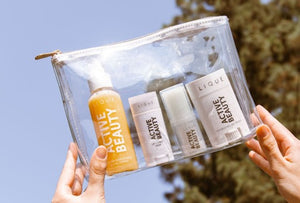 5 Tips to Making Your Makeup Last in the Gym
There's nothing worse than making plans with your friends after a quick workout at the gym only to find out that your makeup has completely sweat and smudged off of your face.
Now, you have to meet them at brunch and take a few selfies with little to no makeup on compared to the rest of the squad. 
Just because you're coming from the gym doesn't mean that you need to look like it. Sweat-proof makeup totally exists. 
Even if you aren't going to the gym, these five types of products will ensure that your look stays flawless even after a long day at work, hike through the forest, or on a 12-hour road trip. 
At Lique Cosmetics, we totally understand that a little blush and mascara can work wonders on your self-confidence. This is why we've compiled five beauty tips that can stretch the wear of your makeup. 
Purchase a primer
Before you do your makeup for any occasion, it's best to start with a primer as this will ensure that your makeup doesn't fade, smudge, or wear off throughout the day.
A good quality primer can also smooth the appearance of your skin, minimize the appearance of pores, and even out your skin tone.
A primer is typically used on your face but there are also specific primers created for use on eyelids and lips. 
Essentially, a primer preps the canvas (your face) before the painting starts (your makeup). 
Even through the sweatiest workout, a product like the Face Primer Stick will create the perfect foundation for your makeup before heading to the beach, to the gym, or to work. 
Opting for a stick instead of a squeeze tube or pump will allow for easy application when you're on the go. 
Consider a high quality BB cream
A BB cream, aka "beauty balm" works in similar ways to a primer but often has a tint to it so you can skip on the foundation and go lighter on the concealer. 
A high-quality BB cream holds the ability to hydrate your skin, brighten your complexion, reduce any redness, and even protect your skin from the sun and free radicals. 
Most BB creams contain SPF and other anti-aging ingredients so you can feel good about amply coating your face before leaving the house in the morning. 
Find a good blush
Even though you might have a nice rosy glow after leaving the gym, it'll fade once your heart rate returns to normal. 
This means that you'll need to tuck a blush into your gym bag for later. When purchasing a new blush, try to opt for one that is long-lasting and highly pigmented so that it stays on your cheeks until you wash your face before bedtime. 
For those who really live an active, on-the-go lifestyle, a lip and cheek stick can be an absolute game-changer as it's two products combined into one.
In order to attain the perfect rosy glow, all you'll need to do is run the stick over your lips and cheeks, then blend the product in with your fingers or a sponge. 
Brow gel goes a long way
By propping your brows upwards with a gel, you'll give your eyebrows some much-needed definition, making them appear fuller all day long. 
There are few things worse than eyebrow hairs hanging down into your eyelashes throughout the day. A high-quality brow gel can keep your eyebrows in an upright position even during the toughest and most intense workouts. 
A good brow gel can also be used as an alternative for mascara if you've forgotten to pack it in your makeup bag. 
When searching for a brow gel, try to find one that contains shea butter and other natural ingredients that will hydrate your brow hairs and lashes. 
Finish with a setting spray
No look is ever complete without using a setting spray. 
While it sprays on invisible, it will ensure that your foundation stays on your face instead of creasing, fading, or smudging. 
A handy dandy setting spray will make sure your makeup lasts for hours and hours, no matter what activities you may be doing. 
For those who don't wear concealer, foundation, or powder but are looking for a spray that will energize their skin after a hard workout, opt for a facial spray. 
A facial spray can give you a healthy glow and can be used several times throughout the day, whenever your skin is looking a little tired. It's like coffee but for your face. 
For the do's and don'ts of wearing makeup to the gym, click here.